At least 10 Australian Special Forces soldiers have been dismissed from their duties in the wake of the Afghanistan war crimes inquiry.
The Australian Defence Force has begun dismissing Special Forces troops who were silent witnesses to the alleged execution of Afghan farmers and civilians and other barbaric incidents revealed by the Brereton inquiry.
Defence has revealed 10 members of the SAS Regiment implicated in the shocking war crimes report released last week have received "show cause" notices.
The notices do not mean they are automatically dismissed and are more likely to involve disciplinary charges including formal warnings. But the men are not believed to be among the 19 of those who were actually involved in the alleged unlawful killings, executions and murders but rather were witnesses.
Some were also the whistleblowers, compelled to give evidence, who revealed the extent of the alleged atrocities and which Defence used as evidence.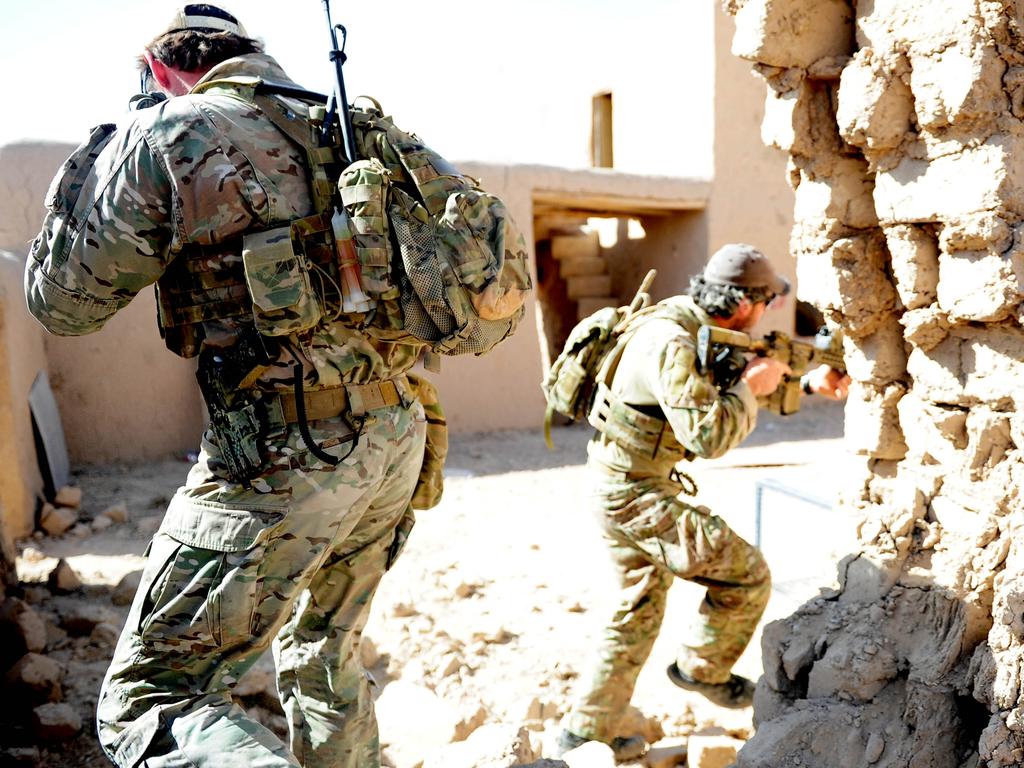 Special Operations Task Group soldiers practice drills in a training compound at Multi National Base – Tarin Kowt. Picture: Department of Defence
At least two have already looked to quitting the military with the men advised they were likely to face some form of disciplinary action. They were advised their evidence could not be used in a legal court of law as they only gave evidence because as serving personnel they had to.
All are believed to be members of the now disbanded 2 "Sabre" Squadron as well as the SAS 3 Squadron. All of them also had already been warned they were likely to face some form of punishment despite the fact they were providing evidence.
The office of the Inspector General of the ADF (IGADF) last week issued its findings from a four year probe led by NSW justice Paul Brereton into alleged war crimes by Special Forces including the SASR and 2 Commando Regiment.
2015
The then Special Operations Commander Australia, Major General Jeff Sengelman, concerned about persistent allegations of atrocities, raises the issue with then Chief of Army, now ADF chief, Lieutenant-General Angus Campbell.
Apr, 2016
General Angus Campbell declares the "range of unsubstantiated, third-person, hearsay stories" warrant independent review and a brief is referred to the Inspector General of the ADF (IGADF).
May, 2016
IGADF launches probe under NSW judge and Army Reserves Major General Paul Brereton into war crime allegations, specifically the conduct of Australia's Special Operations Task Group in Afghanistan between 2005 and 2016 and potential breaches of the Laws of Armed Conflict/Geneva Convention.
May, 2016
The probe is declared an administrative inquiry not a criminal investigation, meaning an inquiry by the Australian Federal Police is opened with the possibility of criminal behaviour alleged. "Fog of War" firefight battles are ruled out of probe scope.
Sep, 2017
Maj Gen Brereton makes a public appeal. "Whether you saw something yourself, or heard others talking about it, we would like you to contact us." There are 55 "incidents" of potential war crimes identified by more than 330 witnesses.
2018
Chief of Army Lieutenant General Rick Burr asks former ASIO chief David Irvine to review apparent failings and subsequent reforms in the structure and leadership of Special Operations Command (SOCOMD) that over a decade created a "corrosive" culture.
2019
IGADF reveals "scattergun" claims of war crimes suddenly made this year from 50 years ago, including during the Vietnam War, are affecting resources into current probe.
2020
Over the past five years, SOCOMD has been reintegrated into broader Army structure under organisational, cultural and capability reforms. Generational change in rank and file now sees 80 per cent of the SASR having never deployed to Afghanistan.
Mar, 2020
Disturbing 2012 headcam footage emerges of a 3 Squadron SAS soldier allegedly executing a cowering Afghan near the village of Deh Jawz-e Hasanzai, Uruzgan province, Afghanistan. Vision referred to the AFP for investigation. Soldier identified and stood down. Irvine called on again to review SOCOMD.
Mar, 2020
ADF Military Police called in to investigate social media threats made by a Special Forces soldier against Maj Gen Brereton's family.
May, 2020
Draft report concluded and Commonwealth Director of Public Prosecutions appoints former soldier David McLure SC to lead potential future prosecutions.
Oct, 2020
55 incidents whittled down to eight. Army chief Rick Burr warns rank and file of the "extremely serious and deeply troubling" findings. "This is not who we are and not what we stand for".
Nov, 2020
Prime Minister Scott Morrison and CDF General Campbell handed IGADF report and announce a new investigative body "Office of the Special Investigator" with Department of Home Affairs to be established to assess and examine the findings.
The findings concluded 25 current or former Special Forces were allegedly involved in crimes in some way, evidence of which was passed to the Australian Federal Police for further investigation with the view to recommending criminal charges to the Commonwealth DPP.
Among the allegation was a practice known as "blooding" were junior troops were told by troop commanders to execute a prisoner or civilian to bag their first kill.
In what is one of the darkest chapters in Australia's military history, in all 25 elite soldiers were involved in unlawfully killing 39 Afghani men and adolescent males.
The AFP is currently looking at 36 specific briefs involving 23 unlawful deaths and two cases where non-combatants were treated cruelly.
Several soldiers were alleged to have been involved in more than one murder.
Australia's Chief of Defence Force Angus Campbell has detailed elements of a toxic culture which was found to have been fostered within the SAS by some…
ADF chief General Angus Campbell described the behaviour as "disgraceful'', General Campbell said a "warrior culture'' with a "misplaced focus on prestige, status and power'' had infected some Special Forces commanders.
"Cutting corners, ignoring and bending rules was normalised,'' he said.
"It is alleged that some patrols took the law into their own hands, rules were broken, stories concocted, lies told and prisoners killed."
Some of the crimes involved planting weapons and radios with their kills so as to change the narrative of who they were suspected of being, such as insurgents.
They have received 'show cause' notices from the Department of Defence after the long awaited the Brereton report found there is "credible information" that Australian soldiers allegedly killed 39 civilians or prisoners "unlawful killings" in Afghanistan.
For those needing support:
· The Defence all-hours Support Line is a confidential telephone and online service for ADF members and their families 1800 628 036
· Open Arms provides 24-hour free and confidential counselling and support for current and former ADF members and their families 1800 011 046, or through SafeZone on 1800 142 072.