The 9,000 men of Rifle Company Butterworth (RCB) are fighting to have their deployment and its risks recognised as warlike service.
EXCLUSIVE – PAUL MALEY 28th February 2020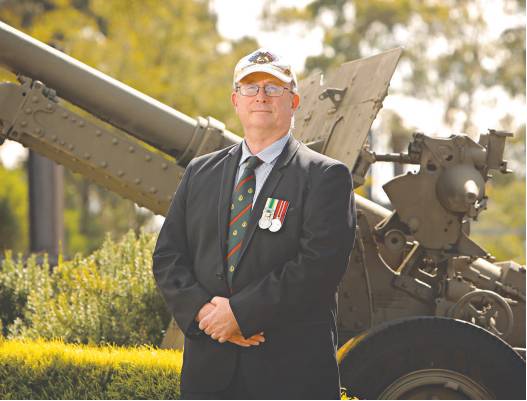 'We were put into harm's way': Ray Fulcher served in the Second Malayan Emergency
The year is 1972 and Gough Whitlam is fulfilling an election pledge to bring home Australian troops from Vietnam, formally ending years of armed conflict with communist insurgents across Southeast Asia.
In northern Malaysia at the Butterworth Air Base, a small contingent of Australian servicemen still carry live rounds and patrol for communist guerillas they occasionally spy peering from jungles nearby.
"There was a Rifle Company Butterworth patrol that encountered a group of communist terrorists,'' Ray Fulcher, chairman of the RCB review group, tells The Australian. "They went to ground but there was no shots fired.''
Nearly 50 years on and the men of Rifle Company Butterworth are fighting to have their deployment and its risks recognised as a warlike service.
It has been a long, friendless fight. Official reviews have declined to upgrade their service, a move that would entitle them to a richer array of veterans' benefits, including a much-prized Gold Card entitling them to a range of public and private healthcare services. It would also clear the way for RCB veterans to get the Australian Active Service Medal, the badge of honour bestowed upon all Australian personnel who served in "warlike'' theatres.
Now they are passing the hat around to fund a Federal Court challenge they hope will see their status formally changed. To Mr Fulcher, as well as to other members of the RCB veterans' community, it is a question of fairness.
"We were put into harm's way to counter a threat in Malaysia and support them in their operations against communist terrorists,'' Mr Fulcher said.
"They cannot renege now on their responsibilities, which is what they're trying to do.''
In nearly 20 years of service, RCB members never fired a shot in anger or had one fired at them. They suffered no combat casualties. The RAAF base they were sent to guard was never attacked. The base itself was a hangover from World War II.
So it is not hard to see why the Australian Defence Force has consistently refused to recognise deployment to Butterworth as warlike.
Yet the official designation of peacetime service doesn't quite fit either. Soldiers on training deployments — notionally the reason the RCB was sent to Malaya — don't pack live rounds. Nor was any training done.
"The government's big thing is that we were training with the Malaysians,'' Mr Fulcher said. "There were one or two who did, but that was later.
"There was no way we could train with the Malaysians — they were busy with their war.'' That "war'' was the decades-long conflict waged between the officially recognised government of Malaysia and the Malaysian Communist Party.
It was a simmering insurgency identical in type, if not in scale, to conflicts fought in Vietnam, Laos and Cambodia. Fifteen Australians died fighting in the First Malayan Emergency and 24 more were killed on active service.
By 1968, the communists had regrouped and launched a fresh offensive. The base at Butterworth, which had been transferred by the British to Australia in 1957, became a strategic outpost, a means by which Australia could project force into an increasingly unstable region.
Butterworth was the only airbase outside Australia where the RAAF maintained a permanent offensive presence.
Even now, Australian troops still rotate regularly through it. During the takeover by Islamic State of Marawi in the southern Philippines, the RAAF used Butterworth to send P-3 Orion spy planes to surveil the group.
In 2018, the government announced it would upgrade Butterworth to accommodate the new fleet of F-35 fighter planes.
During the 1960s, it served as a deterrent and a backstop to the Malaysian government. For this reason, Mr Fulcher thinks the 9000-odd servicemen who rotated through Butterworth from 1970-89 deserve recognition: "If the government sends people into harm's way, that's warlike service. If you send them somewhere where there's a possibility they'll be shot at, you owe them.''
Mr Fulcher was there in 1979 when it was a fully fledged operating base, and a staging post for air combat missions flown by Malaysians against the communists.
RCBRG Comment
We thank Paul Maley for his article. In preparing the article we supplied relevant data months ago and he spoke with three of our Group separately in telephone conversations two days before its publication. We highlighted the two dominant issues that we were contesting:
Firstly, that the decision that RCB service was peacetime service similar to garrison duty in Australia and that the criteria for warlike service was met namely: a specific military objective; a specific area of operations; an enemy threat existed; there was an expectation of casualties; live ammunition was carried and that there were lethal rules of engagement.
Secondly, that the Government's due process in handling our grievance was not applied in a fair manner. 14 years of effort by the RCB Group to exercise its right to the truth and its right to challenge the decision have been met with a Government process that is blatantly unfair.
The article fails to consider the strategic context of security threats from communist expansion (The Domino Theory) in SEA and our strategic Alliance under the Five Power Defence Arrangement with the vital role that the RAAF, deployed at Air Base Butterworth (ABB), had in providing a deterrent to further Communist aggression in South East Asia beyond the 1960s he writes of "During the 1960s, it served as a deterrent and a backstop to the Malaysian government." Our Alliance continued through the Malaysian Emergency War 1968 -1989 and still exists today.
It does not report that the genesis of the RCB deployment was the outbreak of Malaysia's Insurgency War in 1968 against a resurgent communist terrorists and the Australian Government's decision Defence Committee Minute (Secret) 2/73 to protect the RAAF Assets at ABB against the threat. In that Minute it records: "This (deployment) could be presented publicly as being for training purposes". Herewith is the deception of the true RCB's warlike service that meets the criteria.
The article does not report our request for an independent of government judicial enquiry.
However a positive from Paul Marley's article is that it does expose the matter to the Australian people. Our challenge is to build on that entry with our own troops and supporters in direct action campaign in the field.
It is a pity that Paul did not check his "facts" with us before publishing.